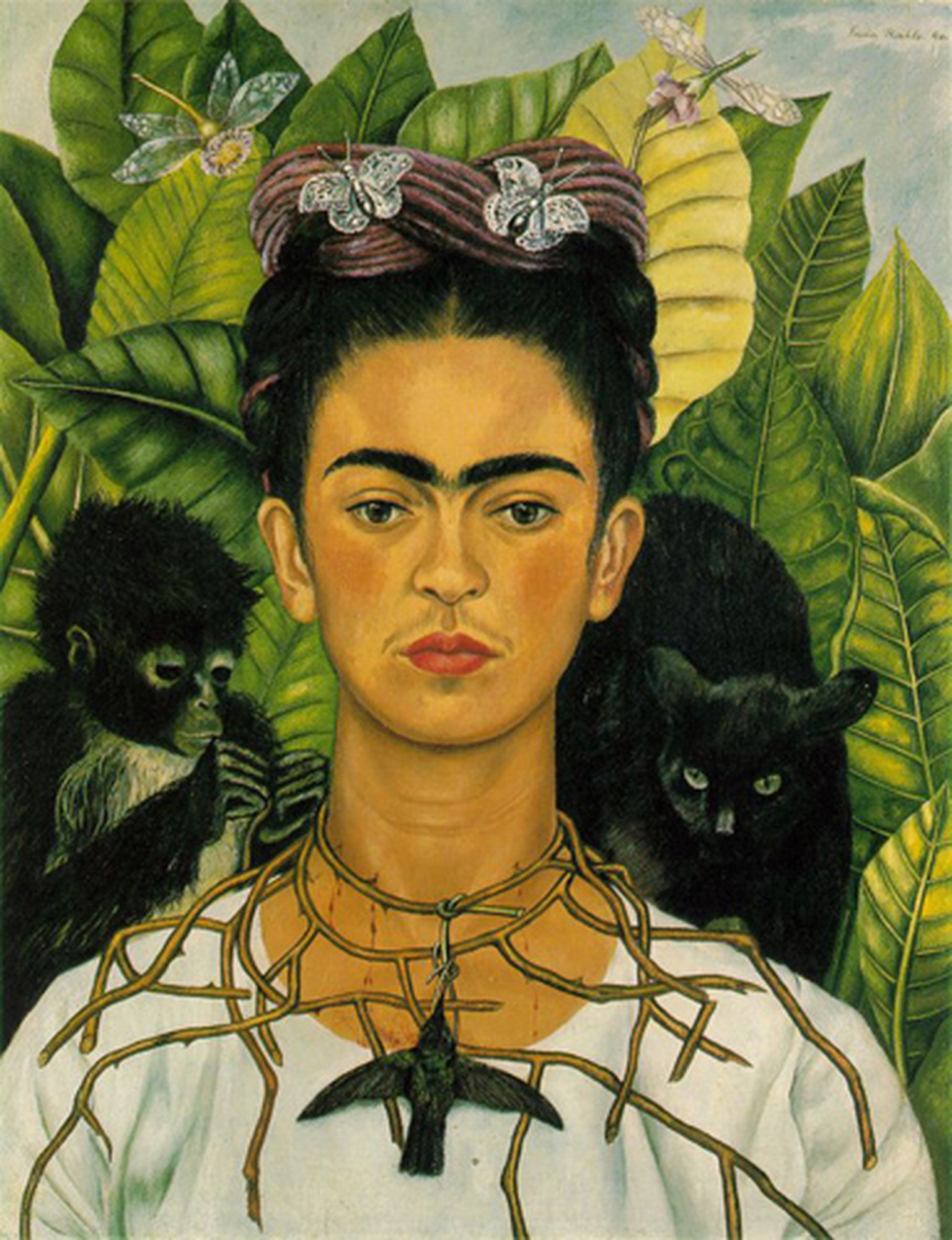 I had planned to take the Heidi Chronicles route with this post at first, and do an entire write up regarding the magical women who have worked tirelessly to shatter the patriarchy that sours the art world. Naturally I was going to include the ever ethereal Frida Kahlo. But I couldn't pay an homage honorable enough to her memory by simply mentioning her along with a list of other names. No, she has earned an article dedicated to herself and herself only. And that is what this is.
To provide a little background on women in the art world, I must warn you, the facts can be upsetting for how sparse this data proves itself to be. On the bright side, approximately 51% of visual artists today are women. However in New York City, arguably the world's most artistic hub (though I have to say that Boston is definitely on the rise), the Guerilla Girls have proved that the art world is in part dominated by males. I could go on and on and on about the Guerilla Girls. I mean, what they do and who they are and how far they've come is extremely uplifting and also very intriguing, but for now I'll just include a fact or two. The Guerilla Girls are a feminist group seeking to bring equality in all of its forms into the glorious art world. And they report that less than 4% of artists in the MoMA's modern section are female, but 76% of the nudes are female. Just some food for thought.
Even a simple Google search can prove the patriarchy in the pudding. I typed in 'famous artists' and hit search, feeling slightly defiant in my investigating. What popped up was a row of photos, each with a name underneath it to say who the artist depicted is. Of 50 or so artists, only 3 were women. THREE. Three. Frida Kahlo, Georgia O'Keeffe, and Britney Spears. (I was only really looking for painters but that doesn't really matter.)
It's quite impressive that Kahlo has managed to rise to such prominence in the art world, as both a woman and a person of color. Today, she may not be a household name, but she's definitely a museum-hold name, and is featured in a plethora of galleries and exhibitions across the world. Props to you, Frida! What you've done is truly remarkable.
Now, it's time to get into the meat of her career. She was born on the 6th of July in 1907, in Mexico, making her a Cancer. Purely from my knowledge of Cancer stereotypes, I would say that Kahlo's work definitely relates to her sign, in that she seems to pour her heart and soul out through the use of a paintbrush. It's very apparent to me that Kahlo's paintings are all imbued with pieces of her soul.
Frida did not begin painting until she was eighteen years of age. And it wasn't on a whim -- she didn't decide to pick up a paintbrush one day and swirl the bristles across a canvas. Frida had been in a horrid accident on a bus in which a railing pierced through her spinal column. It was as she recovered in her bed that she began to paint.
There's a continuity that runs across Frida Kahlo's body of work. She's featured in almost all of them. In some capacity, they're all self-portraits. And simply as an observer, what I take from that is Frida Kahlo was learning to love herself after such a debilitating accident. The way I see her self-portraits is the way I see the concept of the modern selfie. It's a culture of people learning to love themselves, and the importance of that is something that can't be overstated.
Of course, I can't know what it was like for Kahlo to undergo the trauma that she experienced, but I can try to imagine what it was like, I can attempt to empathize with her. With long-lasting effects on her life, it must have been difficult to deal with. That much I know. And when I see her self-portraits, I can only think that they were her outlet in expressing love for herself. And in expressing that love, Kahlo broke the barriers that she faced as a WOC artist.
These are the lessons that Kahlo leaves us with as her legacy. But they all tie into one encompassing lesson, and that is to learn to love yourself in whatever way possible, because in doing so, you will open up a world of possibilities.
Now, to speak about her compositions a bit. I find these self-portraits to carry with them a sort of surrealist mysticism. They show her growth, her battle, her raw emotion. To be exposed to her innermost thoughts, to her struggle, is something that can be described only as a privilege.
Text: Leo Gearin
Visuals: fridakahlo.org